The number of print services needed by a business can be overwhelming. To get the most out of your print job, you need to choose and outsource this function to the right company for your business. This should be a company that will bring the best business printing and design ideas on board. There are many factors to consider before making that decision. You want your money to be well spent, and getting the right company will make it happen.
Areas to focus on
Capabilities
Companies have different printers, which have different printing capabilities. Telling the companies apart just from their website might be a little bit confusing. Get in contact with the respective representatives to find out the capacity of the companies. Your needs, including the type and quantity of materials, will guide in your selection process. Ensure the company you choose will be able to deliver all the work, in good time.
Quality
Having the best of equipment and a flashy website does not guarantee the quality that you will receive. Ensure that you get samples of what you expect to get from the company, before going into a contract with one. Choose a company that offers top notch printing services.
Tenure
High competition and changing market have seen some print companies close their doors, or be acquired by other businesses. Ensure that you find a printing company that has been in business long enough to prove itself. It is a sign of experience and financial stability. You can determine how the printing company has evolved from their website and independent research.
Customer service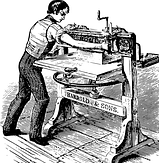 A company should have a record of always putting their customers first and giving them an amazing experience. You can simply ask their customer service team how they do it. The verbiage found within their website can also help you judge. Also, you can get reviews from their previous customers to see if they were satisfied with their experience. A few of the things to check for are responsiveness, approach, and knowledge.
Pricing
Pricing is also another factor to consider, after a thorough evaluation of the print companies. Once you identify a few printing companies that can accommodate your needs, get quotations from all of them for the job that you need to be done. Ideally, the prices should be within the same range. Not so high and not too low. Any that falls out of the range should raise a red flag, meaning that you might have missed something. Check what is included in the package and choose the one that suits you the most.